Fully restored, the Countess radiates a serene elegance, grace, and style. [The Werk Shop]
She calls her car the Countess, and Karra Canum has bonded perfectly with her 1958 BMW 503 cabriolet. Elegantly attired in glistening white—the woman and the car both—the inseparable duo rolled across the winners' stand of the Pebble Beach Concours d'Elegance at the end of Monterey's classic-car week, taking third place in Class O-19: Postwar Touring.
How appropriate that the token for their position was a white ribbon!
The 503 does not always receive the accolades of its famous sibling, the BMW 507, but in many ways, the Albrecht von Goertz-designed 503 is a more important step in BMW's design philosophy. For one thing, it will carry passengers as well as an ample supply of luggage. For another, its engine, an aluminum V8, gives the car the ability to step lively with 140 horsepower; the 507 roadster—another brilliant Goerz design with 150 horses—is really not significantly faster.
Canum bought the car and commissioned its restoration four years ago, after Mike Marijanovic and Don Dethlefseon of the Werk Shop discovered the car—along with a decrepit BMW 327 coupe—in an Ohio shed. "This car has quite an incredible rags-to-riches story—from barn find to the world's premier celebration of the automobile," says Marijanovic, owner of the Werk Shop. And truly, like Cinderella, the journey from scullery to ballroom would be a fairy tale of dedicated craftsmanship.
With restoration complete in 2013, Canum was ready for the inauguration of the Countess. But she chose not to head for the lawn at Pebble beach that year; instead, she drove the car in the Pebble Beach Motoring Classic, a 1,500-mile journey from Seattle to Monterey. Nor was this a genteel vintage–car saunter. "One of my favorite photos from the tour," says Canum, "shows the Countess at 6,000 feet on the south slope of Mt. Hood. It was a white-knuckle drive up that mountain!"
After finishing the trek without issue, Canum and the Countess were extended the official invitation to participate in the 2014 Pebble Beach Concours d'Elegance, and the 503 returned to the Werk Shop in Illinois for final preparation and detailing. After all, one does like to look one's best—especially since the Countess was the first BMW 503 ever invited to the pristine lawn of Pebble Beach's eighteenth hole. As one of but 139 503 cabriolets—and one of just 419 503s altogether—the plucky white car would have to stand alone, competing for a royal crown.
But unlike Cinderella, she didn't need a prince. After all, she was already the Countess.—Wayne Wundram with Satch Carlson
Pebble Beach Concours d'Elegance 2014
Class O-1: Postwar Touring
1st: 1951 Jaguar XK120 fixed head coupé, Stuart Dyble, Oxford, England
2nd: 1950 Bentley Mark VI Hooper sports saloon, Fred amd Donna Kriz, Monte Carlo, Monaco
3rd: 1958 BMW 503 Series II cabriolet, Karra L. Canum, San José, California
Although the top and interior were ruined, the 503 was an ideal subject for restoration. [The Werk Shop]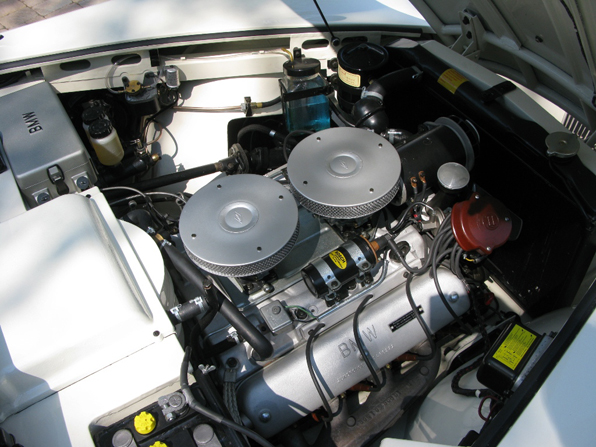 The 503 came with a 140-horsepower aluminum V8 featuring two downdraft Solex carburetors. [The Werk Shop]
Karra Canum drives the Countess across the awards platform at Pebble Beach. [Wayne Wundram]