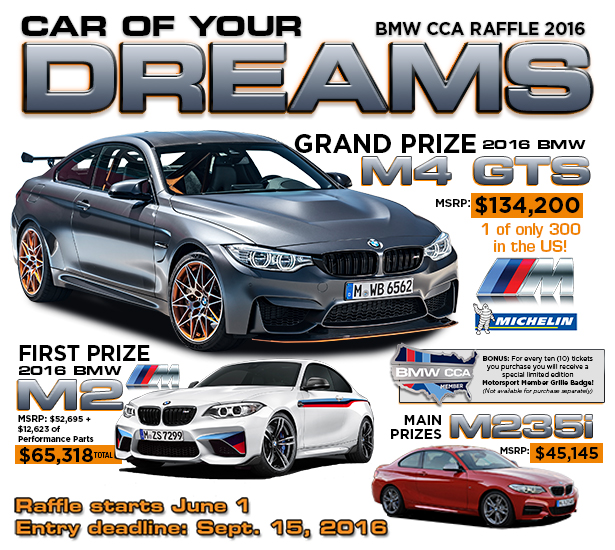 RAFFLE TICKET SALES ENDED MONDAY, SEPTEMBER 19 AT 5 P.M. EDT
The drawing was held September 29 in Augusta, Georgia and the winners have been contacted by phone. The video of the drawing and list of winners has been published below.
You could win the Grand Prize M4 GTS, an M2 with a full complement of M Performance Parts, or an M235i! Proceeds benefit all the BMW CCA programs you know and love to keep the Club fun, exciting, and accessible for members across the United States.
WE WILL GIVE AWAY ONE CAR FOR EVERY 5,000 TICKETS SOLD. THE MORE TICKETS YOU BUY, THE MORE POSSIBLE PRIZES THERE WILL BE!
Over the past fifteen years, 105 prizes have been awarded to lucky BMW CCA members. With chances like that, can you afford not to buy a ticket?
2016 CAR OF YOUR DREAMS RAFFLE WINNERS!
Congratulations to this year's Car of Your Dreams raffle winners!
| Winner Name | Chapter | Prize |
| --- | --- | --- |
| Frank Kirkpatrick | Choo-Choo Bimmers Chapter | Grand Prize - BMW M4 GTS |
| Robert M. Williams | Delaware Valley Chapter | First Prize - BMW M2 |
| Nathan R. Danforth | Green Mountain Chapter | Main Prize - BMW M235i |
| Richard Loreto | New Jersey Chapter | Main Prize - BMW M235i |
| Robin Beran | Illini BMW Chapter | Main Prize - BMW M235i |
| Lesley Horman | National Capital Chapter | Main Prize - BMW M235i |
| Rich S. Tawrel | Puget Sound Chapter | Main Prize - BMW M235i |
| Bruce Benney | New Jersey Chapter | Main Prize - BMW M235i |
| Roger Seward | Houston Chapter | Main Prize - BMW M235i |
| David A. Harrington | Patroon Chapter | Partial Prize - Cash |
RAFFLE WINNERS DRAWING VIDEO
2016 COYD GRAND PRIZE RAFFLE WINNER
Congratulations to Frank Kirkpatrick for winning the Grand Prize in our 2016 Car of Your Dreams raffle. We had the pleasure of meeting Frank in our National office earlier this week. Frank has chosen to take the cash prize option and was presented with his "large" check during the visit.
GRAND PRIZE: 2016 BMW M4 GTS | MSRP: $134,200
SEE THE M4 GTS IN ACTION:
The BMW M4 GTS is a special edition limited to approximately 700 units worldwide, with roughly 300 units of this high-performance M4 available for the first time in the US market and we've secured one for this year's grand prize in the raffle!
Performance Highlights
Engine
M TwinPower Turbo 6-cylinder in-line engine
Horsepower/Torque
493 bHP / 442 lb-ft
Acceleration
0-60 mph in 3.7 seconds
Suspension
Full three-way M coilover suspension
Additional Features

Innovative water injection system
Active M Differential
M Carbon Ceramic Brakes
Michelin Pilot Sport Cup 2 tires
CFRP roof, trunk lid, diffuser, and rear spoiler
Forged low-weight BMW M star-spoke wheels
OLED rear lights
M sports steering wheel
High-strength steel roll bar
M exhaust system
SPECIAL DRAWING PRIZES!
There are even more ways to win! Purchase a Car Of Your Dreams Raffle ticket during one of the special drawing periods and you'll be entered to win the associated prize. For every raffle ticket you buy, you'll receive one (1) entry into a special drawing for one of the prizes listed below!
| Prize Date Range | Prize Description | Winner |
| --- | --- | --- |
| June 1 - 30 | IHG® Rewards Club points for use at IHG Hotels valued at $1,000 | Jay Altman, Rocky Mountain Chapter |
| July 1 - 22 | $1,000 Michelin Tire Certificate | Kieran Aylward, New York Chapter |
| August 3 - 5 | Flash Drawing: Trip for two to Circuit of the Americas | Raymond Rosner, Green Mountain Chapter |
| July 23 - August 12 | $1,000 Shell V-Power® NiTRO+ Gift Card | Manny Nolasco, Everglades Chapter |
| August 13 - September 2 | $1,000 Best Buy Gift Card | B.J. Gibbons, Genesee Valley Chapter |
| September 3 - 15 | $1,000 AMEX Gift Card | Joe Crowley, Boston Chapter |
---
Official Rules
DRAWING: The actual prize drawing will take place in Georgia this September following the conclusion of ticket sales.
TICKETS: Raffle ticket confirmations will be mailed on July 25 and September 22, 2016. Log on and visit the Manage Account area to view your raffle ticket numbers at any time.
PROCEEDS: Proceeds of the "Car of Your Dreams" Raffle are used to offset the program-related expenses of the BMW Car Club of America that might otherwise be borne by our members through increased dues or loss of club services.
RAFFLE RULES
Void where prohibited by law.

At the time of ticket purchase you must be an active Primary/Associate Member in good standing of the BMW Car Club of America, and be at least 18 years of age.

All checks for the individual entrants must be payable in U.S. funds only. Please do not combine checks for purchases of tickets by primary and associate members. Please do not combine checks for purchase of tickets with membership dues. Checks should be made payable to BMW CCA.

Prizes will be awarded based on MSRP as of March 1, 2016. Any price increase prior to delivery will be the responsibility of the winner. All taxes, license fees, options, and/or destination and dealer prep fees and all other fees and charges are the responsibility of the winner.

Prizes subject to availability. BMW CCA reserves the right to substitute a cash prize and/or BMW model of equal value. Federal taxes will be withheld. If a prize does not include a cash allotment for payment of federal taxes, a certified check made payable to the BMW CCA for required tax withholdings will have to be received prior to taking title to the prize.

Tickets will be issued only to the name listed in our membership file. Prizes will be awarded on the same basis. Winning tickets cannot be assigned, transferred, or sold.
Members of the Board of Directors, paid employees, contractors, and consultants of the BMW CCA, their immediate families and/or household may not participate in the raffle.
Requests for tickets, sent by mail, must be submitted on the official form. Tickets may also be purchased online at www.bmwcca.org/raffle.
Account numbers must be written on checks. Your account number may be found on the Manage Account page.
All requests (including checks) received after the official close of raffle will not be included in the drawing.
BMW CCA cannot accept ticket requests over the phone.
Raffle licensed in the State of Georgia.